All JIMS Campuses shift from Offline to Online mode
During this COVID-19 period all our Institutes were also closed right from Lockdown 1.0. The immediate challenge was to continue the academic activities alongwith the co-curricular activities and does not stop the wheel of time and no student to suffer an account of Lockdowns which are getting extended regularly. In all our JIMS campuses right from day one of the Lockdown we have started and are carrying on the following activities to maintain continuity and sustainability.
1.

Classes :

All our faculty members have taken online classes on ZOOM, Google Team and other platforms and attendance of students have been good. The syllabus of all subjects in the current semester was completed, doubts cleared and previous year question papers discussed, in time.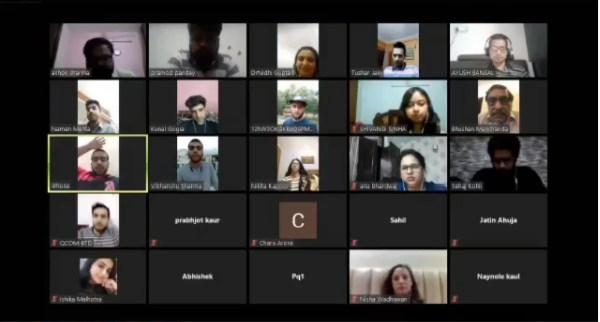 2.

Subject Assignments:

All the students were given Questions, Case Studies online and students have submitted their answers and responses through e-mail and the same have been evaluated by the faculties.
3.

Exams & Examinations:

The relevant exams are being conducted on google forms and other portals so that the evaluation process is carried on. The answers attempted by the students are submitted online and are being checked by the faculty members.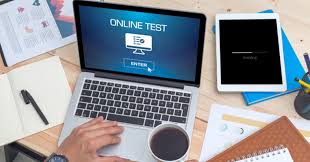 4.

Guest Lectures:

The guest lectures are being arranged through Industry experts in the areas of Management, Leadership, IT, Media, Entertainment, Finance and students are regularly attending all such lectures.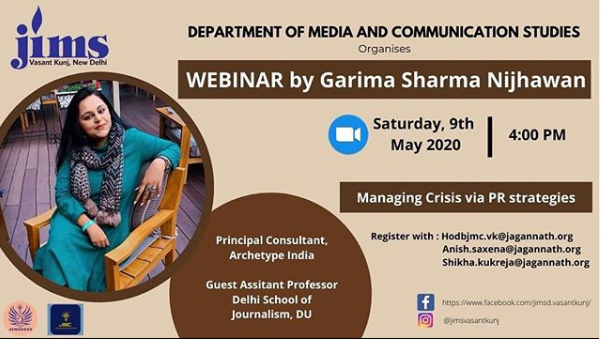 5.

Mentoring sessions:

As part of our Mentor-Mentee programme the faculty mentors are conducting online sessions with their allocated Mentees discussing their issues, giving guidance and interacting for their well-being.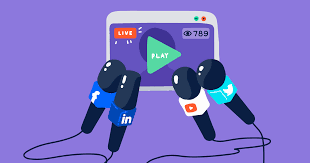 6.

Webinars:

All the faculty members and students are attending various webinars on a variety of topics being arranged by various Organisations like ICT Academy, AICTE, JNU, UNGC and many more.
7.

Meetings of faculty members:

In order to discuss the progress of various academic and other development activities, online meetings on ZOOM and other platform are being held regularly among the Chairman, Directors and faculty members.



The show must go on…………………..
JIMS VK - Russian news agency SPUTNIK puts JIMS in new orbit
Jagannath International Management School, Vasant Kunj is the first Institute in Guru Gobind Singh Indraprastha University, New Delhi to sign a Memorandum of Understanding (MOU) with a Russian news agency, SPUTNIK to enhance its journalism and media education. The MOU was signed on March 30, 2020.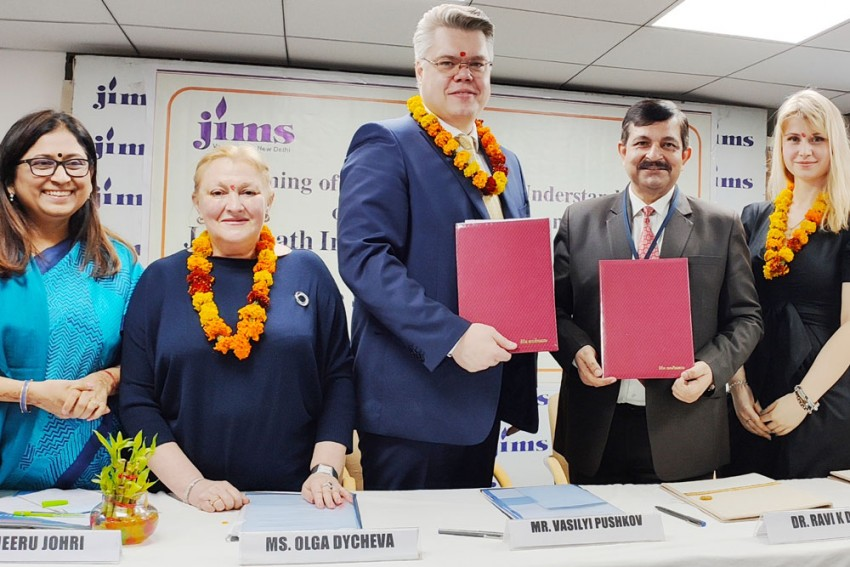 Dr. Dhar, Director, Dr.Johri, HOD, Mass Comminication with SPUTNIK delegates after signing the MOU.
JIMS Kalkaji - HR Quiz
The HR Club of JIMS Kalkaji organised an HR Quiz on March 5, 2020 with a motive to enhance the knowledge of students with respect to HR Field. The event was organised in two phases. In the first phase, all the students of PGDM and PGDM (IB) participated in the preliminary round. Thereafter, six teams were selected for the second phase which had four rounds in total. Rhythm Taneja and Komal Tanwar won first prize of Rs. 1500 and Drishti Kathuria and Bandita Upreti won second prize of Rs. 1000. At the end of event, certificates were awarded to all the winners and participants by Dr. (Cdr.) Satish Seth, Director General, JIMS, Kalkaji, Dr. J K Batra, Director, JIMS, Kalkaji and Dr. Preeti Singh, H.O.D, PGDM IB, JIMS, Kalkaji.
Student winners with Faculty members
JIMS Kalkaji- Ranking
JIMS Kalkaji added another feather to its cap. It was recently ranked as 27th Best B-school in India as per TOI Survey, February 2020.
JIMS Kalkaji Inter-Campus Debate Competition
An Inter-Campus Debate Competition was held at JIMS Kalkaji on 4th March, 2020. The topic was 'Political victories, today, are based more on rhetoric than sincerity'. It was an interesting exchange of thoughts where some students spoke 'for' the topic and some 'against' the topic. The competition culminated in trophies and certificate distribution to the winners.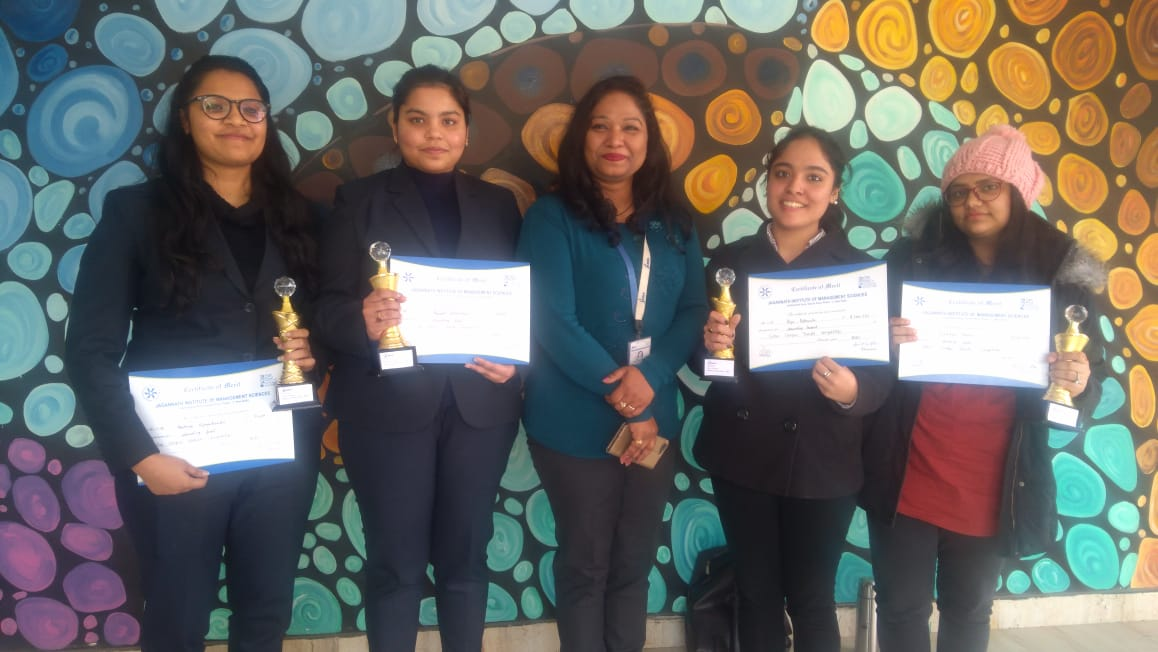 Prize Winners with Dr. Anju Shukla, Faculty, JIMS Kalkaji
JIMS Kalkaji - Doctoral Degree
JIMS Kalkaji congratulates Dr. Gopika Kumar on the award of her Doctoral degree. Dr Vaishali Sharma, Vice-Chancellor, Jagannath University and Prof V K Agarwal, Pro-Chancellor, Jagannath University, Jaipur with Chief Guest, Ms. Shuchi Sharma, IAS, Secretary, Higher and Technical Education, Government of Rajasthan awarded doctoral degree to Ms. Gopika Kumar.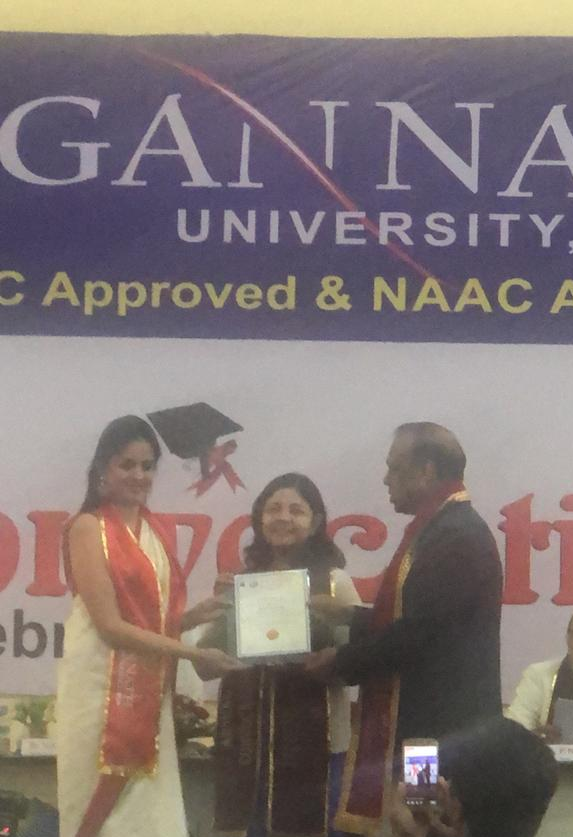 Dr. Gopika Kumar receiving the Degree of Doctorate
JIMS Kalkaji- Post Budget Panel Discussion
PGDM and PGDM (IB) department of JIMS Kalkaji organized 'Post Budget Panel Discussion' on February 6, 2020. Eminent delegates included Dr. S. P. Sharma, Chief Economist, PHDCCI, Mr. Yogesh Gauba, President, Ansal Properties & Infrastructure Ltd., Mr. Harkesh Tara, Vice Chairman, Institute of Cost Accountants of India, (Northern India Regional Council) and Mr. Lohit Pratap Vatsa, Chartered Accountants, Vatsa & Company. The panel addressed various aspects of taxation from impact on agriculture to personal income. The discussion was comprehensive and informative.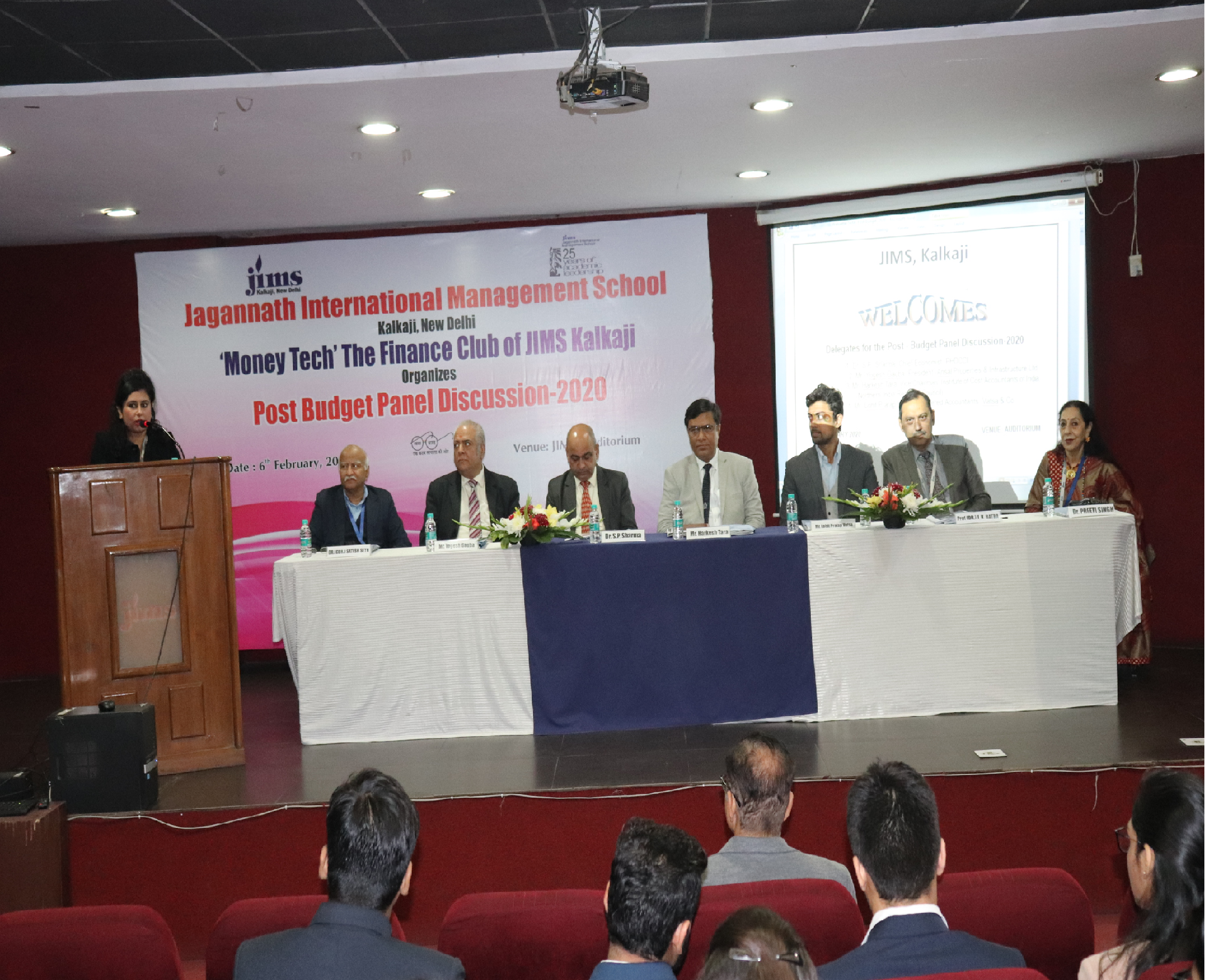 Ms. Jyoti Kukreja, Faculty JIMS Kalkaji welcoming dignitaries on the dais
JIMS Kalkaji - Gillette workshop
'Grooming is essential for men too!' Ms. Avisha, Trainer from Gillette on February 11, 2020 delivered an interactive session on the etiquette for all the male students. Gift hampers were also given to those who rightly answered questions from audio and video content shared by the trainer.
Ms. Avisha addressing students
JIMS Kalkaji - XV International Conference
JIMS Kalkaji in collaboration with PHDCCI and AMDISA organized XV International Conference on 'Revisiting HR in the Digital Era, Impact of Critical Shifts in Technologies, Operations and Culture' on February 15, 2020 at PHDCCI, New Delhi. Dr. D.K. Aggarwal, President of PHDCCI, CMD, SMC Investments and Advisor was the Chief Guest. The guests of honors were Mr. Sunil Sharma, Jt. Secretary, Ministry of Health and Family Welfare, Govt. of India and Mr. Pankaj Dubey, Managing Director and Country Head of Polaris India Pvt. Ltd. Dr. (Cdr) Satish Seth, Director-General, JIMS Kalkaji gave the welcome address and Dr. Jitender Singh, Director, PHDCCI presented Vote of Thanks.
The first technical session was chaired by Mr. Viay Rai, MD of Asia Pacific and EMEA Mkts, Saviour US INC along with other panel members. In the second technical session, the speakers were Mr. Ignace Hindrick, Director of DMH Business Advisors, Ms. Brigitte Wuethrich, Director of Swiss Kalpvriksh Education Pvt. Ltd., Ms. Anju Uppal, General Manager of HR, AIMIL and Mr. Manmohan Bhutani, VP(HR) & Business Operations, American Cyber Systems.
In the Research Paper Presentation Competition, Dr. Urvashi Sharma, Department of Commerce, Delhi School of Economics. Dr. J.K Batra, Director, Dr. Preeti Singh, HOD-PGDM-IB and Dr. Neelam Tandon, Professor Economics and Finance comprised the Jury panel. 33 research papers were presented out of which winners were declared.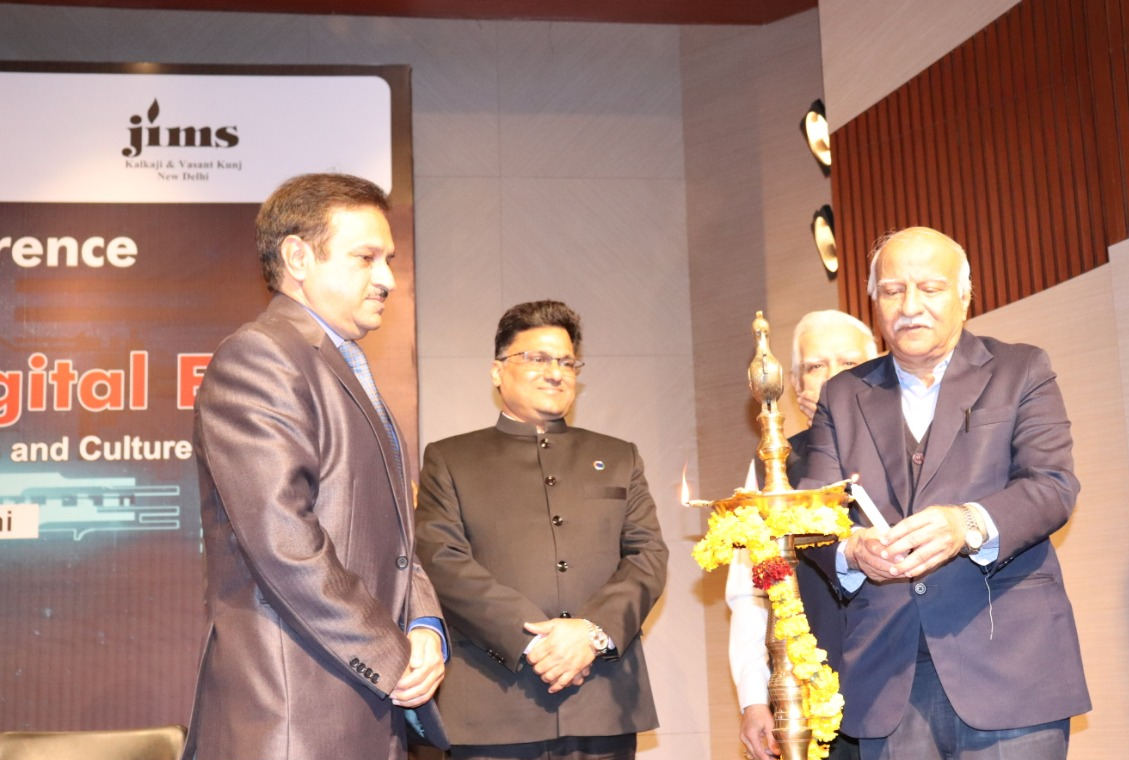 Dignitaries Lighting the ceremonial Lamp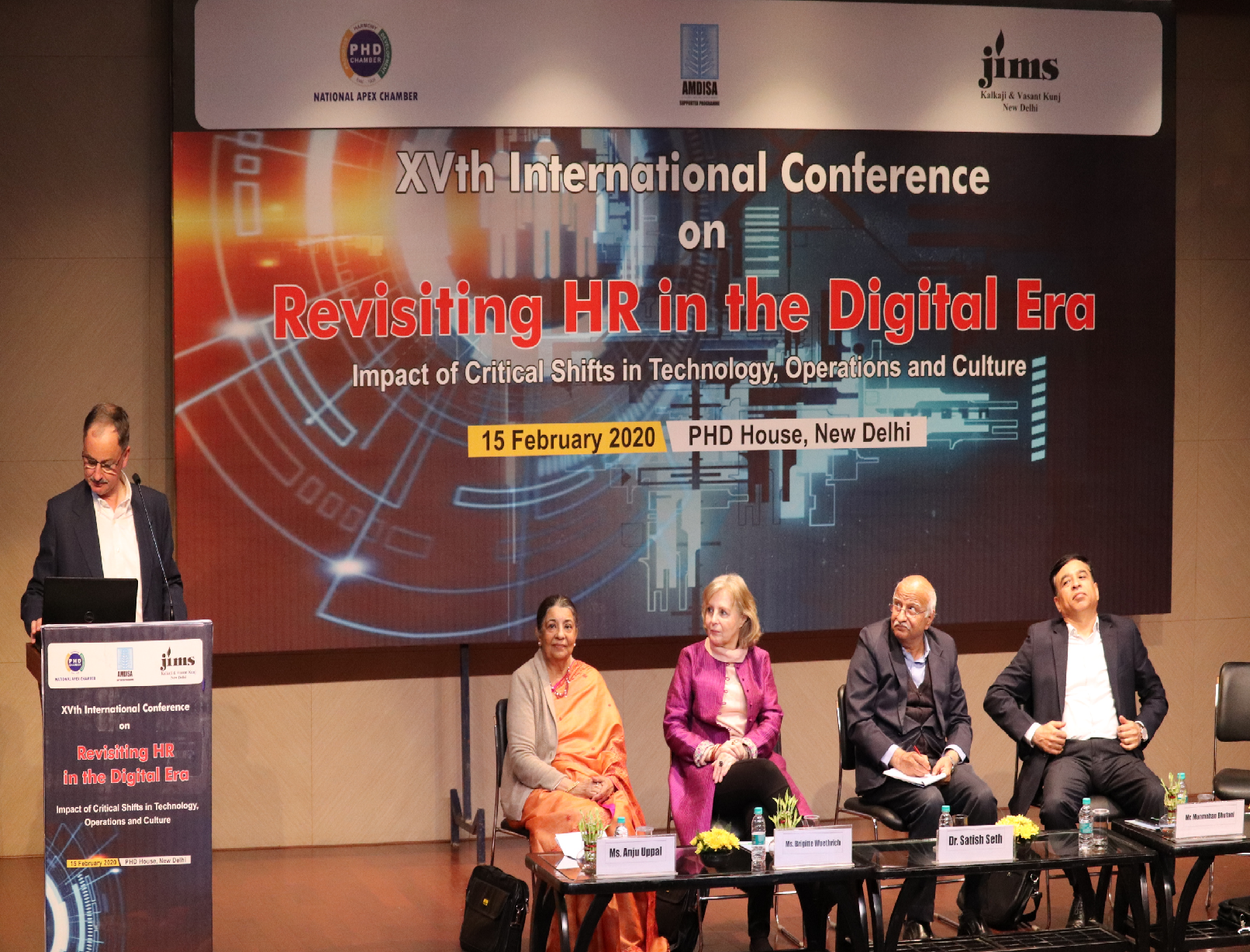 Technical session II in progress with Mr. Ignace Hindrick, Director of DMH Business Advisors addressing at the International Conference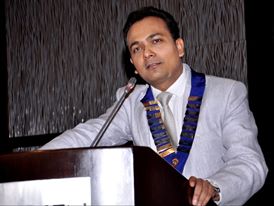 The entire world is passing through a very difficult and unprecedenting phase due to COVID-19. It is perhaps the first time that people in the world are forced to stay at homes for safety from the spread of the dangerous Corona Virus. Although human beings have massive capacity to face the most difficult times but the present situation is so engulfing and challenging that in the absence of any vaccine or medicine, most of the countries are trying all the possible preventive measures to save their citizens. Being in the education sector, we are trying our best to use digital technology to take online classes, exams, conduct meetings, projects, webinars, guest lectures, counselling, seminars, feedbacks, assessments, for the benefit of our students. Actually nothing should hamper the delivery of knowledge and education in this highly technological driven world,we are trying to make best use of all digital platforms.
We all have to emerge out of the current situation strongly and with good health eventually. Please take care, stay at home and be safe.
Dr. Amit Gupta (Chairman)
Zara Sochiye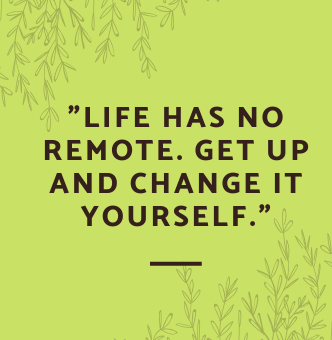 Health Tip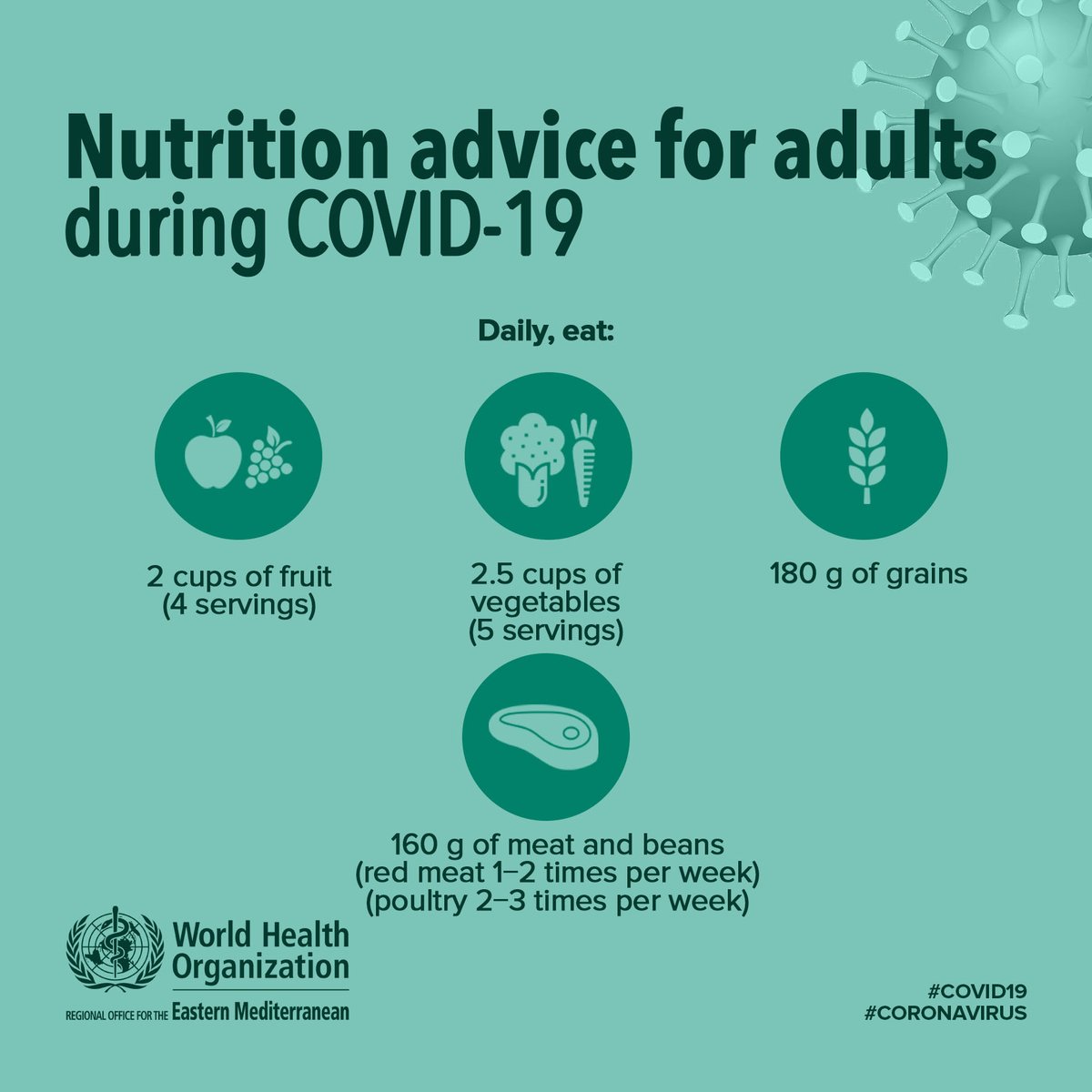 Amazing Image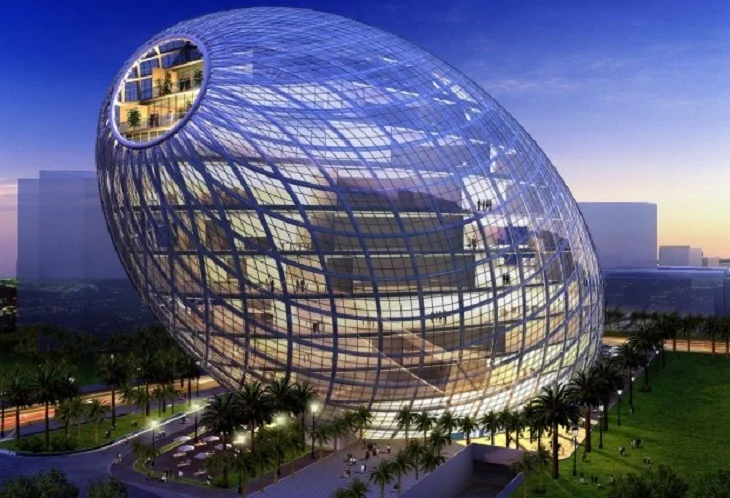 Cybertecture Egg – Mumbai
JIMS VK II - Department of Mass Communication - Laurels
Unnati Kachroo, final year student of the Department of Mass Communication (2017-20 Batch) got three of her stories along with credit lines published in The Hindustan Times editions on 21 February, 28 February and 6 March, 2020.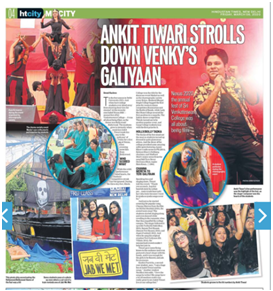 Article published on 6th March, 2020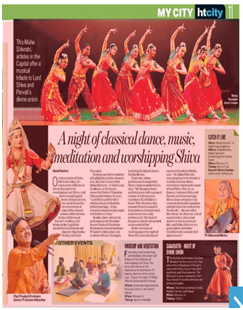 Article published on 21st February, 2020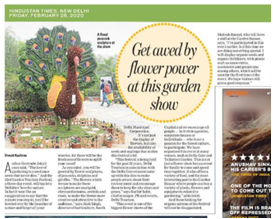 Article published on 28th February, 2020
JIMS VK II- Placements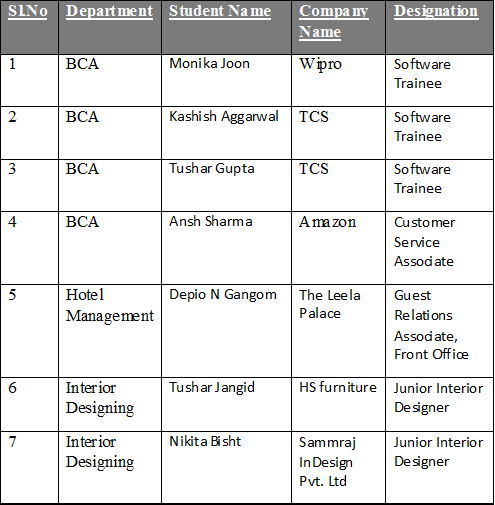 JIMS VK II - Inter Campus Debate Competition
An Inter Campus Debate Competition was held at JIMS VK-II campus on 5th February, 2020. The topic was 'Political victories, today, are based more on rhetoric than sincerity'. Once again the stage was set for the students to engage in a war of words. Advancing arguments in favor and against the motion, they went on giving examples of fulfilled and unfulfilled promises; quoting cases of both deceit and sincerity, bringing to life, in the process, many situations that lay buried in the deepest recesses of the mind. The end of the battle of words culminated in the winners getting trophies and certificates.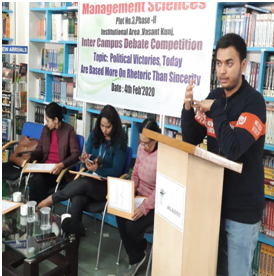 Students during the debate
JIMS VK II- Workshop
BCA Department of JIMS VK-II conducted a workshop on "Mobile Architecture and Design Technology" using various Tools on 21 February, 2020. The workshop was taken by Mr. Abhishek Chowhan, Senior Software Engineer (iOS) for New York based e-commerce product One Kings Lane (Bed bath & Beyond).The workshop was very interesting as he talked about various Apps he designed for companies like Indigo airlines attendance system (DEMO) – Ibeacons, Omni Doc, Buy n for (Free), Rangoli Restaurant, Valet2U, Leuscycle etc. He discussed the architecture in details, talked about various tools available for free and which are easy to use. He also shared his experiences which motivated students for their career ahead.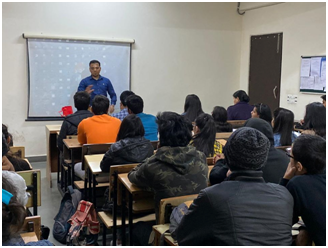 Mr. Abhishek Chowhan addressing students
JIMS VK II- Design Santushti 2020
"Design Santushti" – a two day annual exhibition at Dilli Haat was organized by Department of Interior Design on 18-19 February, 2020. Many product designs were on display including rocket shaped storage, Oreo biscuit chair, seashell baby bed, Mickey Mouse study table, watermelon rocking chair, among others. The jury comprised of professional Interior Designers and Interior Design faculty from reputed institutes. The event witnessed huge footfalls. Many professionals from the industry have showed interest in the students and were keen to hire them in future. The jury was highly appreciative of the work done by the students as was evident from the remarks in the feedback book.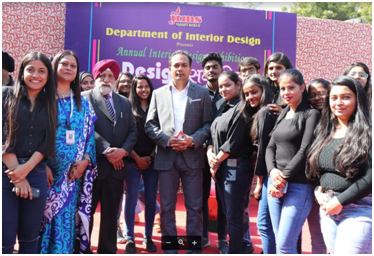 Students at the event with Chairman Dr. Amit Gupta
JIMS VK II- Street Food Festival
The Department of Hotel Management organized an in-house street food festival on 14 February, 2020. Students showcased their culinary skills and presented mouthwatering and sumptuous dishes at various eating stalls.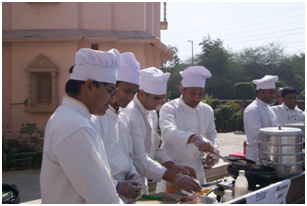 Students preparing dishes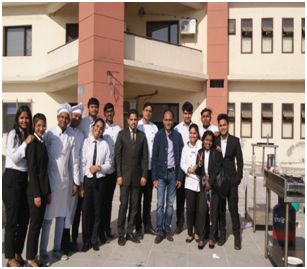 Hotel Management Students during the festival
JIMS Kalkaji- NSS Activity
o Plog Run was organized on 4th Feb by BBA & B.Com (H) students of JIMS Kalkaji. Students went around Kalkaji Locality collecting Plastic Waste. The aim of the activity was to spread awareness regarding plastic waste.
o Old Age Home Visit was organized at Guru Vishram Vridh Ashram on 12th Feb 2020.
JIMS Kalkaji- Workshop on Attitude Building towards Entrepreneurship
Mr. Anurag Aggarwal, CEO, India Skill Capital Leadership Academy addressed students on March 7, 2020 on the topic: 'Building an attitude of an entrepreneur for creating jobs'. He elaborated on the real life stories of successful entrepreneurs and inspired students to root for profits.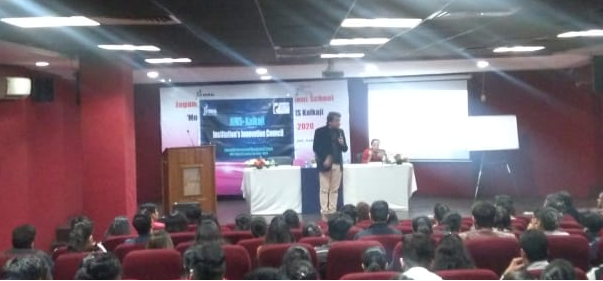 Mr. Anurag Aggarwal, Serial Entrepreneur addressing the students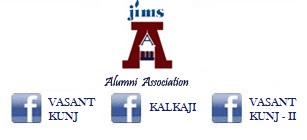 ANUGOONJ 2020 - GGSIPU Annual Cultural fest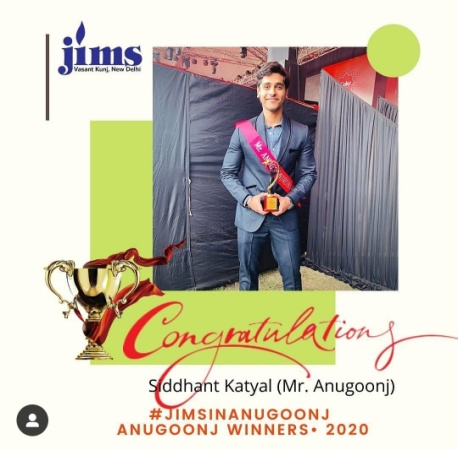 JIMS VK - Siddant Katayal, BA(JMC)(2017-20) First Runner UP in Mr. Anoogoonj 2020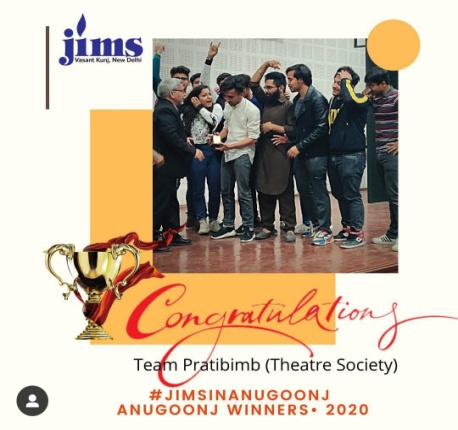 JIMS VK- Ist Position in One Act Play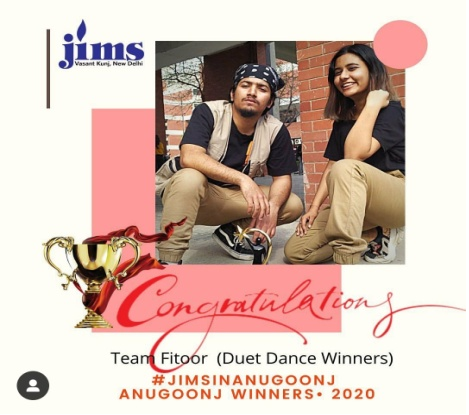 JIMS VK- 2nd Position in Duet Dance by Siddant of BA(JMC) & Anushka of BBA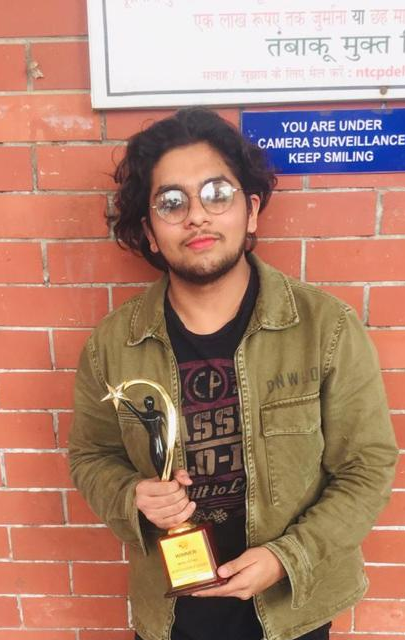 Shubham Singla of BBA JIMS Kalkaji won first prize in Mono Acting competition.
JIMS Kalkaji - Notable Achievements of Alumni
In an endeavor to inspire students, JIMS Kalkaji unfolded Mr. Vijay Singh's career trajectory. Mr. Vijay Singh had worked with two notable brands such as Airtel and LG in the capacity of HR Manager. Currently, he is Head-HRM with LG Electronics and also a Governing Body Member with JIMS Kalkaji.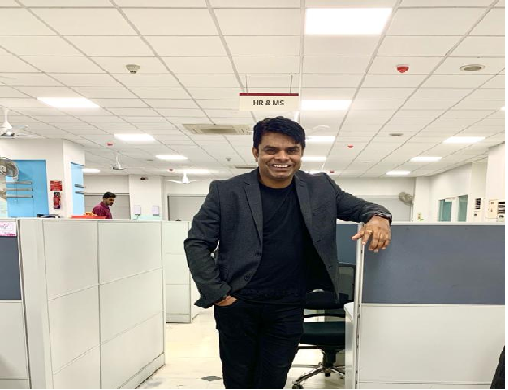 Mr. Vijay Singh, Head HR, LG Electronics
JIMS Kalkaji- Sports Club Activity
JIMS Kalkaji B. Com II Year student, Ojaswi Sangwan, represented India in Inter-shooting Competition, Netherlands from 04 Feb- 11 Feb 2020. She also got selected for the Indian Squad trials held at Trivandrum for 50 M air rifle shooting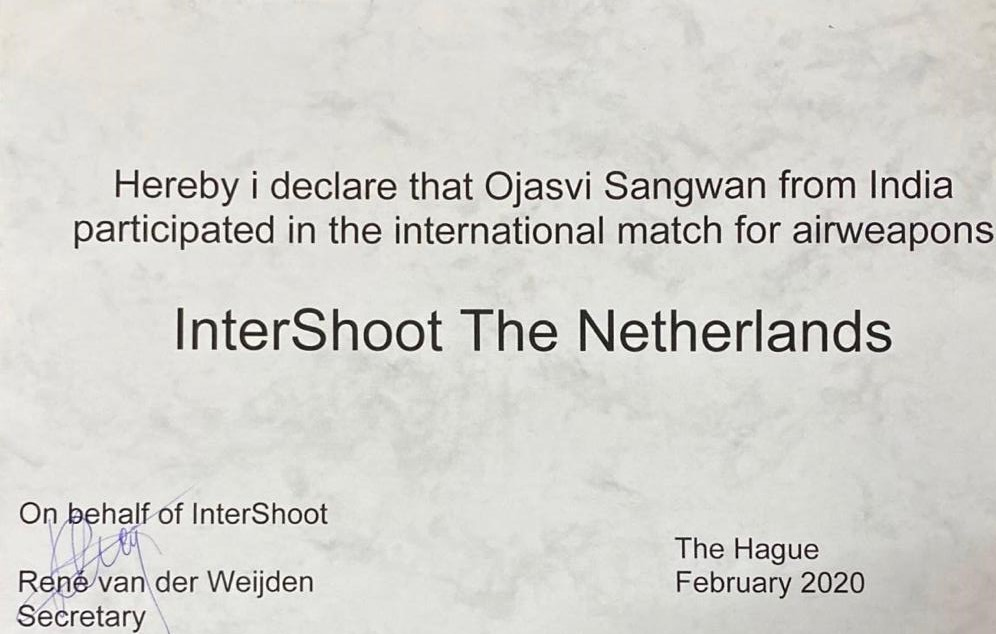 Participation Certificate of Ojasvi Sangwan
JIMS Kalkaji - Guest Lectures
• Institutional Innovation Cell of JIMS Kalkaji organized a guest lecture on the topic 'IPR and IP Management for Innovation and Startups'. The Guest Speaker was Ms. Anushree Bhargava, Group Company Secretary, Indian Express Group.
• Ms. Laetitia Rella, Professor, EADA University Barcelona along with Ms. Leena Upadhaya, Regional Director-South Asia/South East Asia, addressed BBA & B.Com (H) students on various Post Graduate options available in EADA, Barcelona.
JIMS VK - Guest Lectures
• A Guest Lecture was organized by Department of Management Studies on 24th February, 2020. Mr. VinuWarrier, Managing Director, EduVelocity Global Counsels LLP addressed the final year students on issues related to 'Higher Education in the New Millennium'.
• A Guest Lecture was organized by Department of Management Studies on 11th February, 2020. Col. Sunil Khorana, (Ex. GM - Hero MotoCorp Ltd.), Director, Nexrbit HR Consultancy,Training and Development addressed the second year students on issues related to 'College to Corporate Journey'.
JIMS VK-II - Guest Lectures
• A Guest Lecture was organized by Department of Management Studies on 6th February, 2020. Mr. Mandeep Sehgal from SKF, India Limited addressed the second year students on issues related to 'Compliance and Ethics'.
• Ms. Priyanka Chaudhary, founder, Prospective Design was invited for a guest lecture in the Department of Interior Designing on 7th February, 2020. The topic of discussion was "latest trends in restaurant design".
• A guest lecture was organized on 12th February, 2020 by IT Department on the topic "Role of Data warehouse in Business Analytics". The speaker was Ms. Prerna Mathur, IBM.
• Department of Mass Communication organized a guest lecture by Mr. Anuraag Anveshi, Senior Assistant Editor, Jansatta on the topic "Radio Scripting" on 18 February, 2020.
JIMS VK-II- Industry Visits
• On 7th February 2020, BBA (1st year) students of JIMS VK- II, went for an industry visit to Yakult Danone India Plant, Sonepat.
• IT department of JIMS VK-II campus organized an industry visit to networkers CCIE Noida on 14th February, 2020.
• Students of Department of Interior Designing went to Surajkund Mela on 11th February, 2020 to witness the mega event. Surajkund Fair is an important event which is a window to the art and craft of the country. The students learnt a lot about the designs and also got an opportunity to interact with the artisans there. It was an insightful experience as students got an opportunity to understand our cultural heritage better and broaden their understanding on prevalent designs in different part of the country.
JIMS Kalkaji - Industry Visits
• An Industrial visit to Thomson Press, Faridabad was organized for PGDM-A section on March 6, 2020. 33 students went for this plant visit. The students' were explained the entire process of printing and binding the books. Students participated with zeal to make the visit interactive. They got an insight about the large scale printing of various magazines and books. Students were accompanied by Ms. Rachna Kathuria.
•JIMS Kalkaji Institution's Innovation Council organized on February 24, 2020 a visit for PGDM & PGDM (IB) First Year students to the Incubator Centre of BIMTECH. Mr. Abhinav, Marketing Head, AIC-BIMTECH explained about the facilities being provided to the startups.
JIMS Greater Noida – Students' Achievements
Disha Singh Chahar, student of BA (JMC), won second prize in the National Level Budding Journalist Test conducted at a 3-day event "Prerna Vimarsh" organised by the Department of Mass Communication and Media Studies, Gautam Buddha University, Greater Noida from 7th to 9th February, 2020.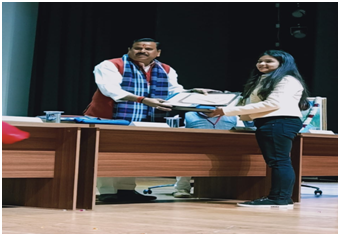 UP Cabinet Minister Mahendra Kumar Singh felicitating Disha
JIMS Kalkaji- JIMS-SSCBS
JIMS-SSCBS National Debate Competition on 'Should India promote domestic or foreign led digitalization?' was organized at SSCBS, Rohini, Delhi on February 25, 2020. The battle of wits fought among participants from prestigious colleges such as Miranda, LSR, SRCC, Hansraj, JMC and SSCBS made the debate session interesting. Cash prizes were awarded to the winners along with the best speaker award.
Winners with the Organizing teams of JIMS Kalkaji and SSCBS
JIMS Kalkaji- Marketing Seminar
JIMS Kalkaji organized its Annual Marketing seminar on 'The Future of Marketing: Customer Experiences, Employee Engagement and Personalization' on February 29, 2020. Ms. Bhavna Kapur, Director, HCL presided as the Chief Guest during the inaugural session. Mr. Rahul Jain, Vice-President, Marketing and Mr. Aditya Aggarwal, Manager, Marketing, CERA Sanitaryware, Mr. Ajay Sharma, Director, Hattrick India Pvt. Ltd. and Dr. Vinod Kumar, IMI were the technical session speakers. Enriching discussion with illustrative examples kept the marketing seminar interactive and comprehensive.
Ms. Jyoti Kukreja, Faculty, JIMS Kalkaji welcoming dignitaries on the dais
Let Us Know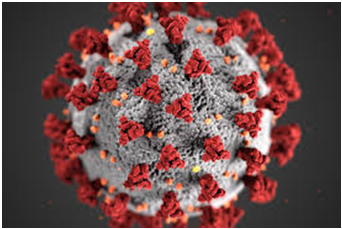 COVID-19: a mild to severe respiratory illness that is caused by a coronavirus (Severe acute respiratory syndrome coronavirus 2 of the genus Betacoronavirus), and is transmitted chiefly by contact with infectious material (such as respiratory droplets) or with objects or surfaces contaminated by the causative virus, and is characterized especially by fever, cough, and shortness of breath and may progress to pneumonia and respiratory failure.
COVID-19 was first identified in Wuhan, China in December 2019.The viral outbreak officially became a pandemic in the eyes of the World Health Organization, which cited the alarming spread of the disease called covid-19 and the slow response of many nations to try to contain it. 
Countries not affected with the COVID-19 till now:
1. North Korea
2. Turkmenistan
3. Kiribati
4. Tuvalu
b 5. Tonga
6. Samoa
7. Marshall Islands
8. Solomon Islands
9. Nauru
10. Palau
11. Vanuatu
12. the Federated States of Micronesia